Website and server monitoring service

---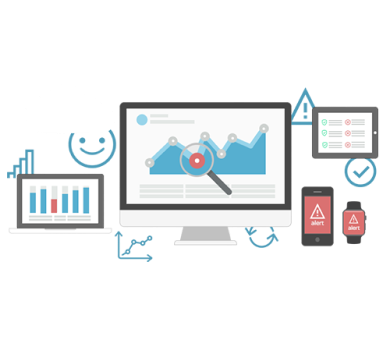 Availability monitoring
Site monitoring
Network monitoring
Monitoring system consists of 3 elements
Monitoring installation
We install the monitoring system to server services or/and sites according to your request
Fast reaction
Monitoring needed processes and parameters, reacting to any issues around the clock
High priority
In critical situations, we are working on the problem right after client notification
Got notification? We have started solving the issue, be sure!
You can find this service useful if you are
E-business owner

---
Control your site's general load and traffic
Server resources monitoring
Response Time monitoring of the site/separate pages
24/7 site availability nonitoring
Hosting company

---
Disk and RAID monitoring
Monitoring of all infrastructure's servers
Fast reaction on monitoring's alerts
Fixing critical server services' issues
Webmasters and Developers

---
Client's servers control
Fast reaction on monitoring's alerts
Troubleshooting in critical situations
E-mail notification about each alert
Dedicated or virtual server owners

---
Analog of your provider's monitoring
Additional control over your hoster
Individual monitoring configuration
24/7 troubleshooting

We analyze systems and servers in detail at the stage of connecting the monitoring service. Therefore, you will receive only the most necessary data for making operational decisions.
Site and server monitoring plans
| | Standart | Advance |
| --- | --- | --- |
| Reaction time | up to 15 minutes | up to 5 minutes |
| Free solution of monitoring problems if it takes less than 5 minutes | | |
| Troubleshooting of critical situations with server services | | |
| Web projects troubleshooting in critical situations on server | | |
| Update notifications | | |
| Troubleshooting that require more than 10 minutes of admin's time | after Customer's approvement | |
| Sys admin's time applied to the monitoring support monthly | 1 hour | 2 hours |
| Number of servers | 1 server | 1 server |
| Separate availability monitoring of the website | 1 pcs | 3 pcs |
| Monitoring of non-common ports and server services | 1 pcs | 3 pcs |
| Monitoring of non-common URL | — | 3 pcs |
| One-time comprehensive analysis of the server/services with optimization purposes | — | |
| Critical alerts notifications send to the Customer via email | | |
| Disk, RAID monitoring | | |
| Monitoring of all Linux based servers | | |
| Basic server analysis and monitoring install (one-time fee) | 30 $/once | 20 $/once |
| Monitoring of additional site | 5 $/mon. | 5 $/mon. |
| Additional support time costs | 16 $/hour | 16 $/hour |
| The price of monitoring setup fee for 6-month orders or more is | 15 $/once | free |
| | 10 $/mon. | 20 $/mon. |
| | | |

You can always change the monitoring plan or even get a prepaid support plan if you need more options or parameters.
Sites and Servers monitoring form SeCom
The server monitoring service from SeCom includes a full spectrum of services from installation, fine–tuning the monitoring and notification system to services of reacting on critical alerts. Monitoring performs in 3 stages:
Monitoring system installation — at this stage, we are performing a comprehensive analysis of server services and offer the most optimal monitoring option. Also, we determine the necessary metrics for a server or a server infrastructure, as well as particular sites. After that, SeCom's admins connect you to the monitoring system.
Fast reaction — in case of the alert, we'll inform you according to the monitoring rate and personal agreements. The monitoring status is under the round-the-clock control of technical support specialists.
High priority — SeCom's admins can start solving the issue immediately in case of a server or particular service problem. We can offer you a solution right after you got a notification.
Monitoring service fits perfectly for:
Owners of e–shops, large web portals, or commercial sites, in a word for everyone who needs availability of their sites 24/7. Our system will be useful. It informs you about a lack of resources, server load caused by traffic growth, etc.
Hosting companies — we are ready to take over the monitoring of the entire infrastructure or particular servers and services. RAID and disc monitoring, channel status, server load. We are ready to start solving the rising issue immediately. On your behalf, for your client's comfort.
Webmasters and Developers — the monitoring of web application servers and sites will ensure the stability of your projects and the gratitude of your regular customers. You can set monitoring on your own server or the hoster's one. Our monitoring is great for additional control and stability of projects.
Admin's response time is 5–15 minutes this time depends on the monitoring plan. It's fast enough to solve the most of situations and ensure round-the-clock stability of sites and servers.
➤

How much Server Management Service costs?

1-hour costs 20 USD
One-time work can be charged by the time spent, or it can be fix-price for the whole task
If you have a pre-paid server management plan, the cost starts from 15 USD/hour. The total amount for the task is discussing beforehand
➤

How to order a server management service?

Just go to the website and fill out the feedback form. We will quickly analyze the problem and offer the best solution according to your budget and time
➤

What is the response time to a ticket?

The average response time to a request is 15 minutes. This time may vary depending on the plan and load on the tech sup. The reaction time on a pre-paid support plan is discussing beforehand